York TCGD Series
York TCGD Split System Series was designed with performance in mind. These units offer comfort, energy conservation and dependability for single, multi-family and light commercial applications.
QUALITY CONDENSER COILS - The coil is constructed of aluminum microchannel tubing and enhanced aluminum fins for increased efficiency and corrosion protection.
PROTECTED COMPRESSOR - The compressor is inter- nally protected against high pressure, temperature, and externally by a factory installed high pressure switch. This is accomplished by the simultaneous operation of high pres- sure relief valve and a temperature sensor which protects the compressor if undesirable operating conditions occur. A liq- uid line filter-drier further protects the compressor.
DURABLE FINISH - The cabinet is made of pre-painted steel. The pre-treated galvanized steel provides a better paint to steel bond, which resists corrosion and rust creep. Special primer formulas and matted-tless fading when exposed to sunlight.
LOWER INSTALLED COST - Installation time and costs are reduced by easy power and control wiring connections. Available in sweat connect models only. The unit contains enough refrigerant for matching indoor coils and 15 feet of interconnecting piping. The small base dimension means less space is required on the ground or roof.
TOP DISCHARGE - The warm air from the top mounted fan is blown up away from the structure and any landscaping. This allows compact location on multi-unit applications.
LOW OPERATING SOUND LEVEL - The upward air flow carries the normal operating noise away from the living area. The rigid top panel effectively isolates any motor sound. Iso- lator mounted compressor and the rippled fins of the con- denser coil muffle the noroperating sounds.
LOW MAINTENANCE - Long life permanently lubricated motor-bearings need no annual servicing.
EASY SERVICE ACCESS - Fully exposed refrigerant con- nections, and a single panel covering the electrical controlsmake for easy servicing of the unit.
SECURED SERVICE VALVES - Secured re-usable service valves are provided on both the liquid and vapor sweat con- nections for ease of evacuating and charging.
U.L. and C.U.L. listed - approved for outdoor application.
Agency Listed - U.L. and C.U.L. listed - approved for out- door application. The unit is certified in accordance with the Unitary Small Equipment cerification program, which is based on ARI Standard 210/240.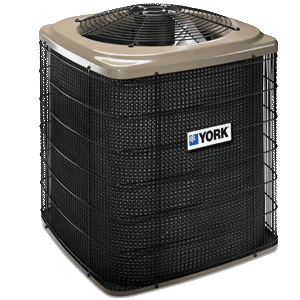 Model ID
Model Name
Capacity
MBtuH
Sound db
Volts
MCA
Max
Fuse
R410A
Charge (oz)
HxWxD
Line Size
Weight
1749
TCGD18
18.0
75
1-208/230
9.8
15
51
28x23.5x23.5
3/8-5/8
97
1750
TCGD24
24.0
76
1-208/230
12.4
20
61
28x23.5x23.5
3/8-3/4
129
1751
TCGD30
30.0
76
1-208/230
14.7
25
62
28x23.5x23.5
3/8-3/4
131
1752
TCGD36
36.0
76
1-208/230
17.9
30
73
28x29x29
3/8-3/4
145
1753
TCGD42
42.0
76
1-208/230
21.5
35
69
30x29x29
3/8-7/8
173
1754
TCGD48
48.0
77
1-208/230
21.1
35
73
30x29x29
3/8-7/8
173
1755
TCGD60
60.0
78
1-208/230
35.0
60
82
32x33.63x33.63
3/8-7/8
195
5-year limited parts warranty.
5-year limited compressor warranty.