York CZE Series
The York CZE Series was designed with performance in mind. These units offer comfort, energy conservation and dependability for single, multi-family and light commercial applications.
SUPERIOR COIL PROTECTION - A stamped decorative metal coil guard completely protects coil from debris and other large dam- aging material while a polymer mesh further protects the coil against smaller particles.
ISOLATED COMPRESSOR COMPARTMENT- A molded composite bulkhead isolates the compressor from the rest of the unit reducing sound and vibration.
PROTECTED COMPRESSORS - Each compressor is protected against abnormal pressures by an internal pressure relief valve and factory installed high and low pressure controls. Additional protection against moisture and debris is provided by factory installed liquid line filter driers.
ENVIRONMENTALLY FRIENDLY REFRIGERANT - Next generation refrigerant R-410A delivers environmentally friendly perfor- mance with zero ozone depletion.
DURABLE FINISH - Automotive quality finish provides the ultimate protection from harmful U.V. rays and rust creep ensuring long- lasting high quality appearance. A powder-paint topcoat is applied over a baked-on primer, using a galvanized, zinc coated steel base material. The result is a finish that has been proven in testing to provide 33% greater durability than conventional pow- der-coat finishes.
LOWER INSTALLED COST- Designed to provide enhanced install- ability by featuring a slide-down control compartment and angled service valves to reduce overall installation time and cost.
LOW OPERATING SOUND LEVELS ÃÆ'¢ï¿½ï¿½ A fan design boasting technol- ogy adapted from aeronautic and defense engineering provides for whisper quiet operation by allowing airflow to flow smoothly and efficiently across the fan tips.
FILTER-DRIER - A factory installed, solid core liquid line filter-drier filters harmful debris and moisture from the system.
EASY SERVICE ACESS - A full end, full service, access panel with handle makes for easy entry to internal components.
COMPOSITE BASE -Strong and durable composite base pan resists rust and corrosion while it helps reduce vibrations and noise.
QUIET DRIVE SYSTEM - Features combination of swept-wing fan, composite base pan, isolated compressor compartment and two-stage compressor to reduce overall sound to a mere whis- per.
LOW RPM FAN MOTOR - Helps to reduce airflow noise.
AGENCY LISTED - U.L. and C.U.L. listed - approved for outdoor application. The unit is certified in accordance with the Unitary Small Equipment cerification program, which is based on ARI Standard 210/240.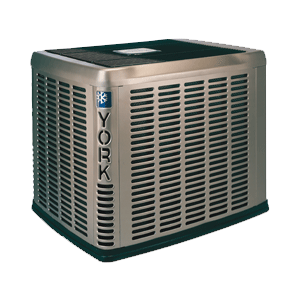 Model ID
Model Name
Capacity
MBtuH
Sound db
Volts
MCA
Max
Fuse
R410A
Charge (oz)
HxWxD
Line Size
Weight
1738
CZE02411
24.0
71
1-208/230
13.3
20
117
33.5x37x31
3/8 - 3/4
195
1739
CZE03611
36.0
73
1-208/230
22.3
35
132
39.5x37x31
3/8 - 3/4
210
1740
CZE04811
48.0
72
1-208/230
27.9
45
226
39.5x37x31
3/8 - 7/8
260
1741
CZE06011
60.0
74
1-208/230
33.5
50
217
39.5x37x31
3/8-9/8
270
5-year limited parts warranty.
10-year limited compressor warranty.
Premium System Warranty - Limited lifetime compressor and 10- year parts when matched with an approved York Affinity furnace or UPG air handler and coil.